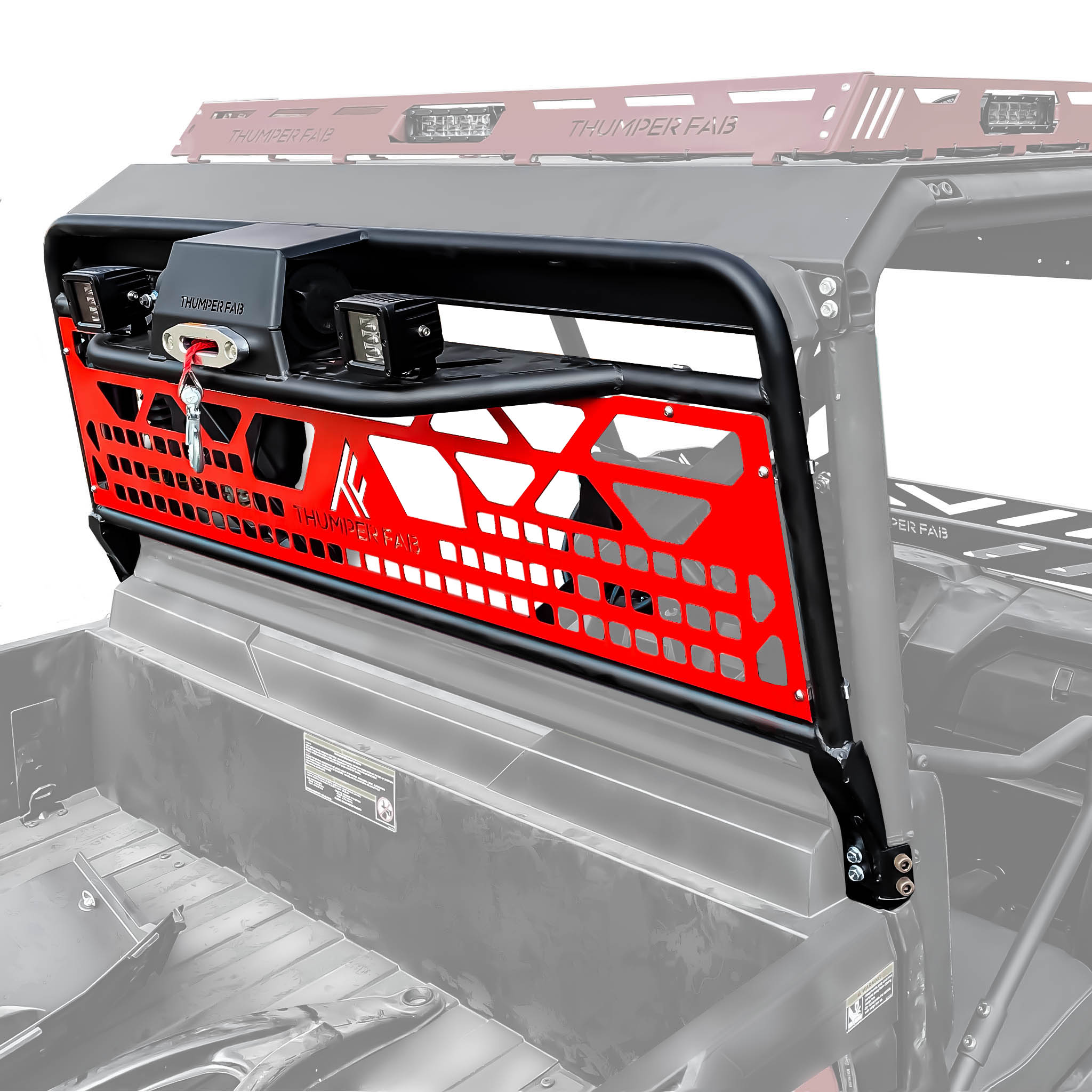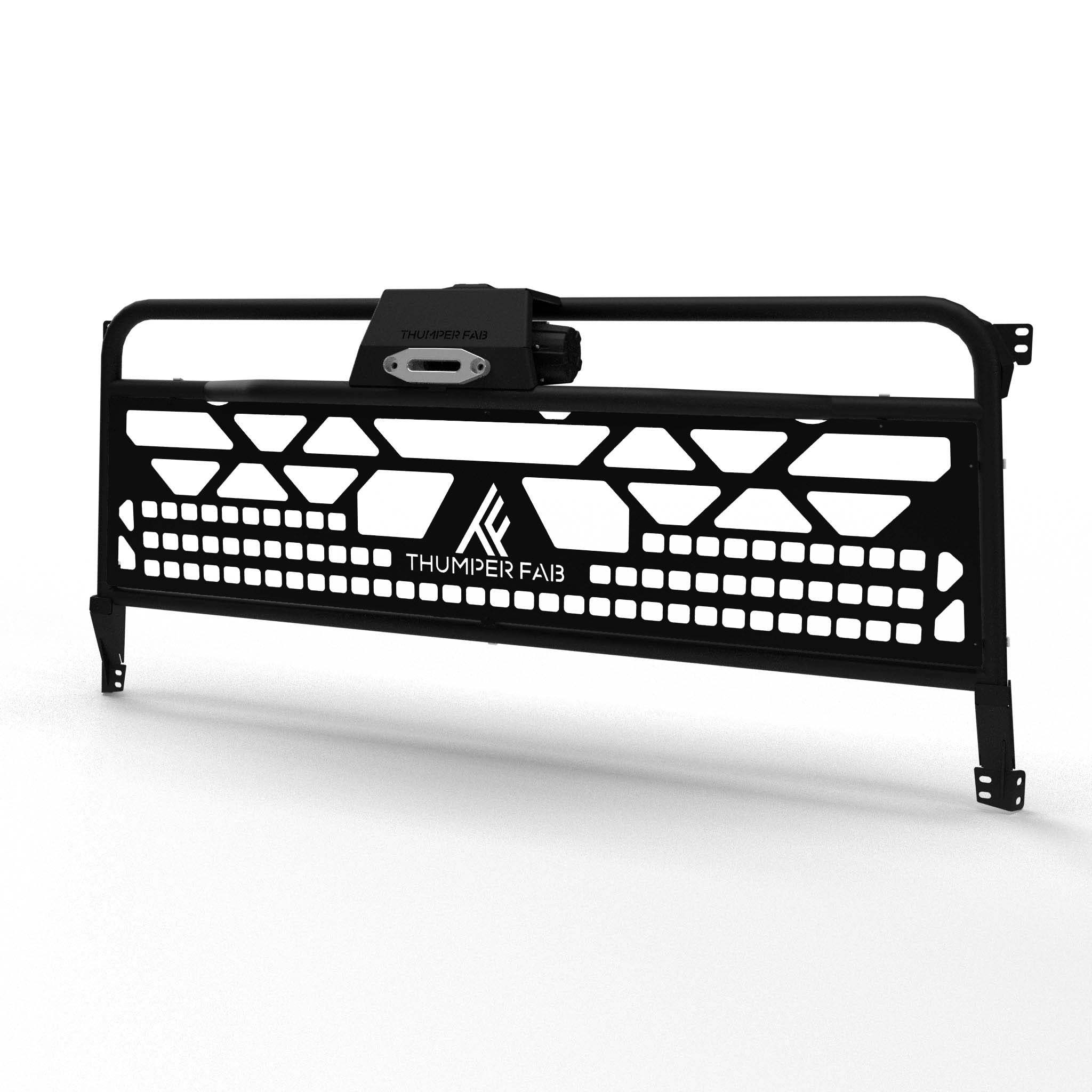 Need a tough, durable headache rack that can handle your heavy-duty lifting? Thumper Fab has you covered with the Tracker 800SX Winch Headache Rack. This tough rack is designed to give you the extra support you need when lifting objects up to 1,500 pounds into your rear cargo bed. With its high-mount design, the winch has the leverage required to bring in the big game and heavy items up-and-in with ease. And for added convenience, it comes with a wireless remote that gives you complete control while in operation. Plus, we've added all the bells and whistles you could want, including options for LED work lights, RotoPax mounts, tool mounts, and even MOLLE webbing.
2019-2023 Tracker 800SX
2019-2023 Arctic Cat Prowler Pro
2020-2021 Cushman Hauler 4x4
2018-2023 Caterpillar CUV
Customer Reviews
Write a Review
Ask a Question
08/24/2023
Douglas C.

United States
Installation of Headache Rack on a Tracker 800SX
Thumper fab support I had purchased a Thumper fab Headache Rack approximately 4 weeks ago. After receiving the box and opening the box, first I noticed that all of the nuts and bolts, washers and other items were just placed all in one bag. The directions to install the items were very vague and the list of bolts, nuts were not easy to figure out what go's with what. These photos were taken to show that modifications needed to be done. I have a 2022 Tracker 800SX UTV. After trying to place it on the UTV the main bar that attaches to the back bar on the Tracker the bolt holes did not line up. After attempting to bolt the thumper bar to the UTV, it would not line up, after looking at the directions they show, the picture in the directions shows the UTV photo does not have a back window. So we had to modify the Thumper rack by grinding down part of bracket which is shown in the pictures I have sent to make it fit properly . I used a pen tip to point to the area that did not line up. So after grinding the Thumper rack to fit properly, we also had to grind off 8 bolts that had washers attached to the bolts to be able to fit in the area of my UTV which photos also show. There was a lot of modifications that needed to be done to make the Thumper rack work. Hopefully this will be of assistance for future buyers of this rack to fit a Tracker 800SX with a back window. Maybe when someone is looking a purchasing a Thumper Rack your design team can have the modifications done before the customer makes a purchase. The options we had were to grind down the Thumper rack or remove the window clamp and drills 2 holes and move the window clamp up about 3 inched and reattach the window clamp. So we opt to grind down the Thumper rack to have it work. Hopefully the designers can use these photos to change the design to fit a Tracker 800SX with a window, as you might know hauling hay in the back of a UTV without a window can become an issue as all of the loose hay and dirt or whatever you are hauling can become a mess in the front of the UTV. Thanks for taking the time to look into this issue. Could you respond to this issue as I have a friend that is looking into buying a Tracker 800SX and purchasing this Headache Rack for his UTV, I have taken several photos which I can send you if you are interested but I did email them to email support@thumperfab.com.
Thank you Douglas for taking the time to leave a review! We have tested the rack fitment with a glass rear window that did not have the clamps you are referring to. It does look like those clamps would interfere with the mounting of the rack as you know. We have tested fitment with the OEM glass but have not tested with all possible rear panel options. Thank you for sharing!
Choosing a selection results in a full page refresh.